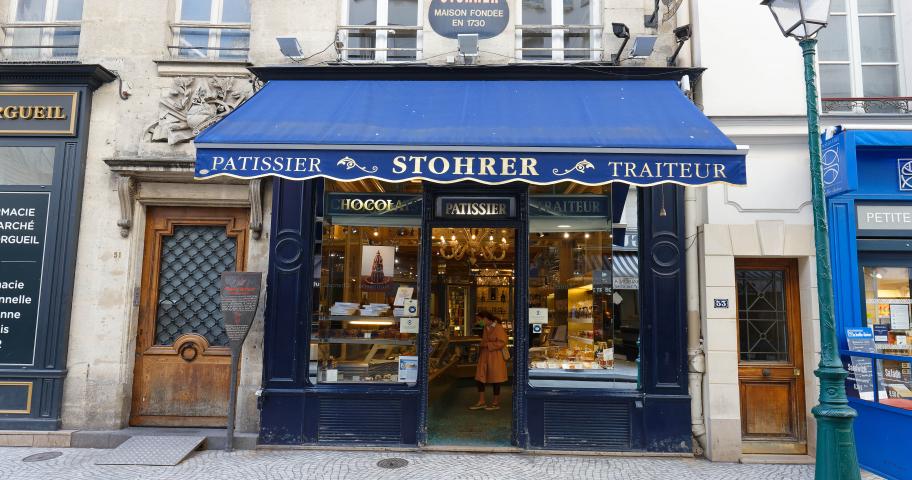 The unmissable Rue Montorgueil
Published on 1 August 2022 in Flavours & Gastronomy
Situated between the 1st and 2nd arrondissements, the Rue Montorgueil is one of the favourite shopping streets of Parisians. For a satisfying shopping session, an evening on the terrace or great culinary discoveries, this street is a must… and it's only a five-minute walk from the Hôtel Les Théâtres.
The charms of the Rue Montorgueil
What differentiates the Rue Montorgueil from many of the city's other thoroughfares is that it's pedestrianised. You'll find it a pleasure to stroll the cobblestones away from traffic and exhaust fumes. Here, terraces reign and the rhythm is that of footsteps. This gentle pace lends itself to admiring the several buildings listed as Monuments Historiques. These include the Auberge du Compas d'Or, which dates back to the 16th century and was mentioned by Zola in The Belly of Paris, or no. 73 and its intriguing architectural style dating from 1743. The restaurant L'escargot Montorgueil is also on the list of Monuments Historiques and has welcomed, since its creation in 1832, many famous customers, including Proust, Guitry, Picasso and Charlie Chaplin.
Enjoying the Rue Montorgueil
No visit to the Rue Montorgueil is complete without a visit to the Stohrer pâtisserie, the oldest in Paris, established in the early 18th century. Its founder's claim to historical fame is as the creator of the rum baba. The Café Montorgueil will welcome you in a traditional brasserie spirit, combining classic French gastronomy and diverse foreign influences. For a little taste of Italy, go to Mozzato, where magnificent mozzarella creations abound. Finally, for an original cocktail, the Experimental Cocktail Club combines a New York ambiance with a journey into the realm of new flavours!
A few steps from the Hotel Les Théâtres, you can immerse yourself in the lively and welcoming atmosphere of the Rue Montorgeuil. The street has managed to retain its long-established identity while becoming fashionable and attractive to tourists and Parisians alike.
******
Photo: kovalenkovpetr
---
Hotel les Théâtres, a 4-star boutique hotel in the heart of Paris