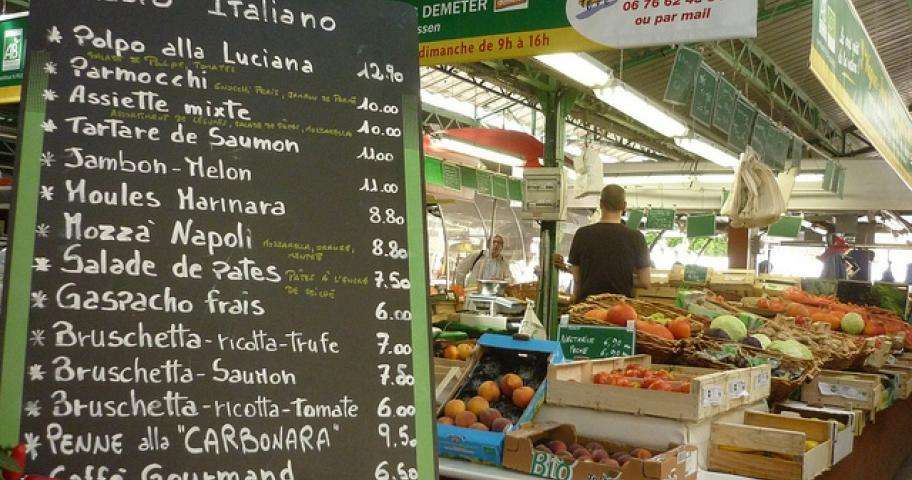 Stop at the little market for lunch or shopping
Published on 9 April 2016 in Flavours & Gastronomy
Markets are representative of local communities and they're often the best places to get a feel for the spirit of a city. Paris, with its many traditional markets, is no exception to the rule. You can't miss Enfants Rouge market; this veritable Marais institution is just a few minutes from the hotel.
The story of Enfants Rouges market
The historic site at 39 rue de Bretagne in the 3rd district owes its name to the Enfants Rouge orphanage. The orphanage was founded in 1628 during the reign of Louis XIII and was home to the city's lost and abandoned children until it closed its doors in 177 - just before the start of the Revolution. As a sign that they received Christian charity, the poor little residents were dressed in red. When the orphanage left, the site was transformed into a covered market. Back then it was called the Little Marais Market and only took its current name much later. It is the oldest covered market in Paris still in use. 16 robust wooden pillars support a building that is a registered historic monument and which stands out as a landmark in the Marais. Threatened with closure and destruction in the early 90s, the market owes its survival to locals who ardently campaigned for its reopening in 2000. Today it enjoys a unique reputation among tour guides who praise the diversity and quality of its products.
The oldest market in Paris
This small market welcomes you into a beautiful hall. There are twenty traders and it's open from Tuesday to Saturday. People come to shop but also to enjoy a fun lunch on the go. Dine on a variety of international specialties such as Moroccan cuisine, or Italian, Lebanese, African or Japanese. It's a difficult choice so it's easier to simply let yourself be guided by those irresistibly subtle fragrances. A sit down meal at the Estaminet des Enfants Rouges, a delightful inn where the food is freshly prepared each day, is another alternative. Fill your basket from stalls dotted with early vegetables, fish and organic and regional produce, including oils and flowers. The displays are as much about your viewing pleasure as about shopping at an exceptional market where people just come to have fun.
Picture credits: Evan Bench