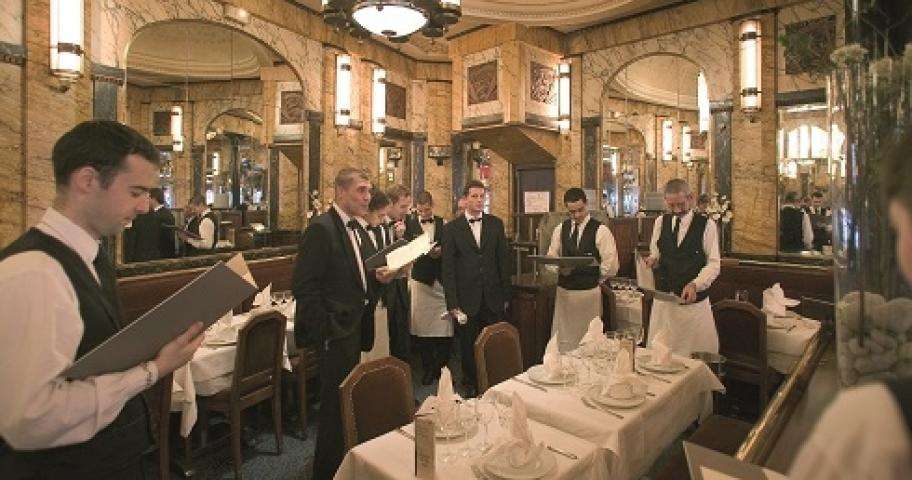 Restaurant Vaudeville, A Traditional Paris Brasserie
Published on 4 July 2014 in Flavours & Gastronomy
Restaurant Vaudeville; it is an evocative name for a thoroughly charming place. Adjacent to La Bourse, the Paris stock exchange, Le Vaudeville is a traditional brasserie located not far from the Hotel Les Théâtres. Our hotel has built an outstanding reputation on the quality of its service and, similarly, so has Le Vaudeville acquired a sterling reputation for fine food and a welcoming ambience. Thus we have no hesitation in giving it our highest recommendation.
Fine Food Amidst Art Deco Splendour
Le Vaudeville offers a delightful evocation of the Roaring Twenties, when Art Deco reigned supreme as the most stylish of décor options. Nearby theatres of yesteryear inspired the characteristic look of this superb brasserie. There are mosaics and tiles, along with wood, brass and engraved glass, but especially there is a cool and sumptuous abundance of marble. Le Vaudeville is truly a tribute to a lost age of elegance and taste.
Chef Aurélien Bonin offers a menu that is finely balanced between tradition and modernity and regularly reviewed according to the seasons so that only the freshest of produce is used. Amongst the tempting dishes can be found grilled Dover sole, grilled meats, salad of crayfish and asparagus tips, smoked salmon and fresh escalope of warm foie gras with grapes or raspberries. Fresh grilled codfish with mashed potatoes and truffle juice is a particular speciality and an enduring favourite. If that whets your appetite, as it surely must, then a visit to Le Vaudeville to savour the wonderful food and experience the unique atmosphere should be a priority during your stay in Paris.
Le Vaudeville : 29 Rue Vivienne, 75002 Paris
Tel. 0033 (0)1 40 20 04 62
Metro : Bourse, line 3
Copyright: Le Vaudeville-© Paris Tourist Office - Photographe : Marc Bertrand