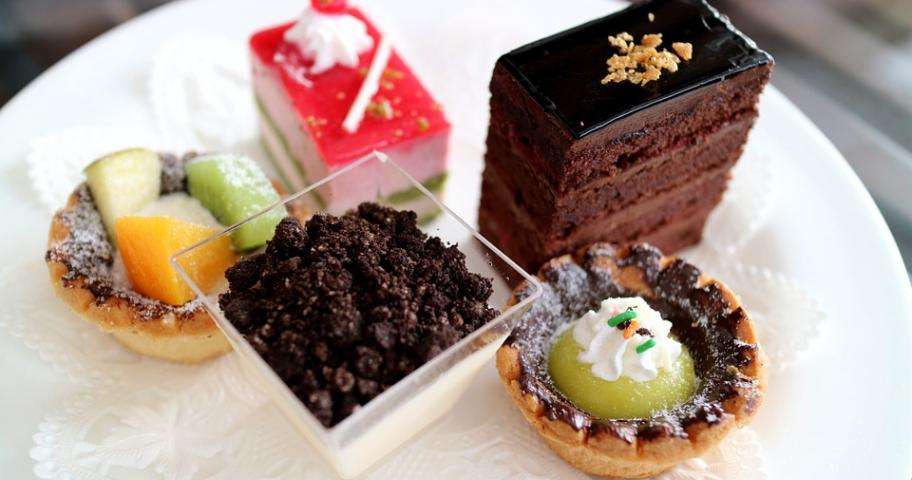 Parisian pastries, cakes that are fit for a queen
Published on 19 October 2016 in Flavours & Gastronomy
Paris and its secret pastries
Paris delights the taste buds almost as much as the eyes. Known for its fine cuisine, the capital now excels in the art of confectionery and you'll discover an ever changing parade of delicacies and sweets. Cake creation has much in common with couture and dedicated virtuosos will stop at nothing when it comes to tempting us in this golden age of Parisian pastries. Hotel les Theatres invites you to discover a few:
The magical flavours of Pierre Hermé,
Globally recognised pastry chef, Pierre Hermé began his career with Gaston Lenôtre, the 'inventor of haute couture pastry' at the age of 14. You'll now find designer style "PH" establishments all over the world, including several in Paris. Each offers an array of macaroons and glamorous creations that are inspired by the chef's imagination and the seasons. l'Isfahan, l'infiniment Vanille, la tarte Citron, the magnificent 2000 feuilles and le Carrément Chocolat are among his greatest successes.
Des Gateaux et du pain, delicious creations that tell a story
Claire Damon opened Des Gateaux et du pain in 2006 and since then she has become one of the city's top pastry chefs. She gained her experience with some of the capital's most prestigious houses (Ladurée, Fauchon, Bristol, Plaza Athénée) and her skill ensures that the patisserie is always full. Claire continues to delight your taste buds with a dozen creations that are renewed regularly. Savour treats like the vanilla millefeuille, the Absolut Citron, the blackcurrant Mont Blanc or the Kashmir, a heady concoction of dates, orange, vanilla and saffron with salted caramel cream with relish.
89 Rue du Bac 75007 - Paris
63 boulevard Pasteur, 75015 Paris
Michalak Take Away – for innovative creations
Former pastry chef at the Plaza Athénée and Pastry World Champion in 2005, Christophe Michalak is the saviour of gourmands in search of sweet treats. His creations are distinguished by innovative touches and these original desserts are chic, tasty and very rock'n'roll. Sold in screw top glasses for you to enjoy in the street, some of the most popular include creamy layered Kosmiks and fruity Koonies. Try half pie, half dessert chocolates or indulge yourself with the creative union that is Mr. and Miss Cookie - a master patisserie chef with a sense of fun!
60 Rue du Faubourg Poissonnière, 75010 Paris
Hugo & Victor, seasonal flavours
Hugues Pouget, a French dessert champion and former head pastry chef at Guy Savoy, presents a collection of sweet curiosities that are the essence of his craftsmanship. Each is a blend of modern and traditional pastry techniques and high quality raw materials from local producers. The flavours are the stars and might include caramel, chocolate, praline and vanilla. Winter or summer, the five seasonal flavours are changed every two months. The best value in Paris, classical and contemporary creations like vanilla pastry with strawberry and galangal, or toffee pavlova with red fruit will tempt even the most discerning palate.
40 boulevard Raspail - 75007 Paris
7 rue Gomboust 75001 Paris
Carl Marletti, jewel like pastries
Carl Marletti opened his shop in 2007 and offers high quality classical and seasonal creations at incredibly attractive prices. These affordable confections have nothing to fear from the great pastry houses, word of mouth has done it's work and earned him the praise of the public and the press. We particularly love his Mont Blanc, a delicious lemon tart with Lily of the Valley.

51 Rue Censier, 75005 Paris
Cyril Lignac, the new name in pastry
In less than four years, chef Cyril Lignac has made a name for himself in the capital's dessert and patisseries circles. An associate of Benedict Couvrand, pastry chef for 10 years at Fauchon, he continually creates innovative gourmet treats that are adored by the most finicky sweet toothed gourmets in Paris. He brings the classics right up to date with simple but stunning creations like the Equinox, a lemon tart with a glaze of salted caramel butter.
33 rue de Sèvres 75006 Paris
24 rue Paul Bert 75011 Paris
55 Boulevard Pasteur 75015 Paris
2 rue de Chaillot 75016 Paris