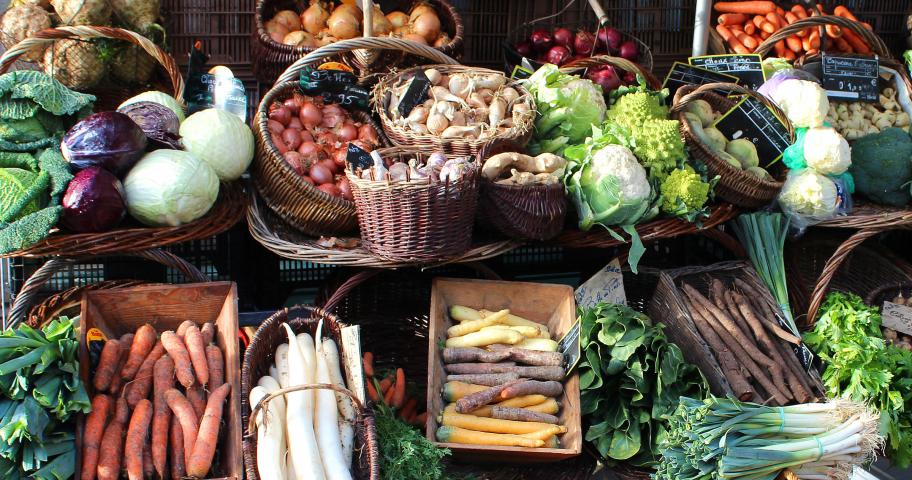 Have a gourmet adventure in the oldest covered market in Paris
Published on 1 June 2022 in Flavours & Gastronomy
A quarter of an hour's walk from the Hôtel Les Théâtres you can discover a place steeped in history: the Marché des Enfants-Rouges. Listed as a Historic Monument, this covered market shelters a thriving community of traders, greengrocers, food artisans and caterers. The place is known for its fresh produce and friendly atmosphere.
A Parisian market more than 400 years old
Pass under the distinctive red and black sign and enter a place full of life, colours and tempting aromas: the Marché des Enfants-Rouges, founded in 1615. Formerly known as the Little Market of the Marais, it adopted the name of the nearby Enfants-Rouges orphanage, so called because the children wore red clothing that marked them out as recipients of charity. A thriving hub of the district, the market is open continuously from Tuesday to Saturday and on Sunday morning.
Treat yourself at the Marché des Enfants-Rouges
While strolling among the stalls, you'll be unable to resist stocking up on the freshest of quality produce. You can also satisfy your appetite at any time at the stalls of the various caterers and artisans. In addition to the specialties of the regions, you can enjoy dishes from all over the world. What's more, the market is the ideal place to put together a gourmet picnic to enjoy in the Jardin des Tuileries or the Parc des Batignolles. You might also want to check out the Estaminet, the market's only restaurant, which offers hearty and tasty dishes prepared with produce from the surrounding stalls.
The Marais district is one of the oldest in Paris. It retains a feel of village life much appreciated by residents and visitors alike. This is particularly noticeable in places such as the Marché des Enfants-Rouges. Discover this charming market during your stay at the Hotel Les Théâtres.
******
Photo: Brad Pict
---
Hotel les Théâtres, a 4-star boutique hotel in the heart of Paris