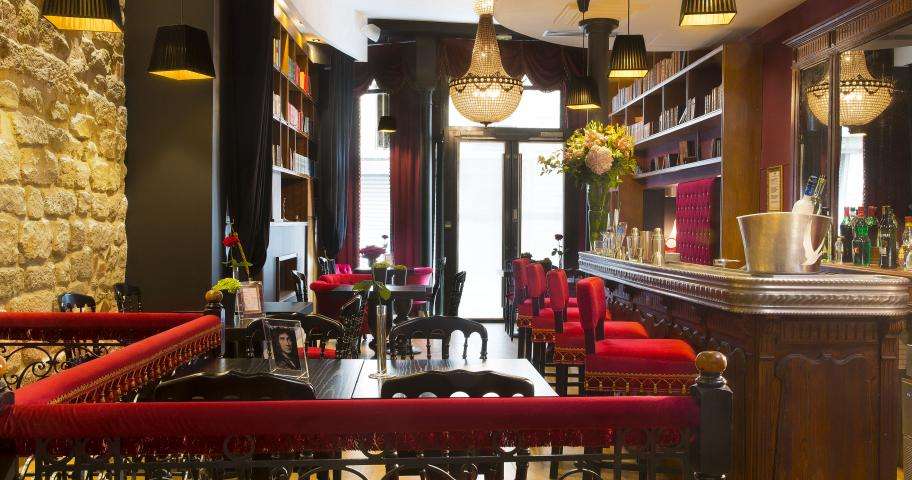 Welcome to our Honesty Bar
Published on 5 January 2020 in Hotel Les Théâtres News
Knock three times in the truest theatrical tradition and step inside the Hotel Les Théâtres! You'll find everything you love; red velvet seating, starched curtains and our décor's numerous tips of the hat to our greatest dramatists. Not to mention our themed rooms. But today's focus is on our Honesty Bar!
The decor of our Honesty Bar
Want a quiet moment or two before starting your day? Need somewhere to get in the mood for a night on the town? You'll find that our Honesty Bar is the ideal place. It can also be considered the heart of our establishment, with its deliciously cosy and inviting ambiance, deep armchairs, sparkling chandeliers, shelves full of venerable volumes and especially its crackling fireplace that offers an irresistible temptation to relax. Everything is provided for a romantic drink, a precious moment to yourself or a convivial aperitif with friends.
Bottles and nectars
You'll be completely at home in our Honesty Bar! Feel free to help yourself to your tipple of choice from the large selection of wine by the glass, always at the right temperature, available from the D-Vine dispenser. Or you can opt for an invigorating hot drink during the day. And in the evening, you're welcome to compose your cocktails yourself thanks to our concept based on trust. Leaning on the bar where you can enjoy the décor to its best advantage or comfortably curled up in an armchair by the fireplace with a book from our library, you'll enjoy special moments of tranquil rest and relaxation. It's up to you to make this delightful space your own!
Our Hotel Les Théâtres is ideally located close to numerous performance venues. But before you set off for an evening out, take some time to enjoy the comforts of our Honesty Bar!
******
More information:
- Hôtel Les Théâtres Honesty Bar
---
Hotel les Théâtres, a 4-star boutique hotel in the heart of Paris