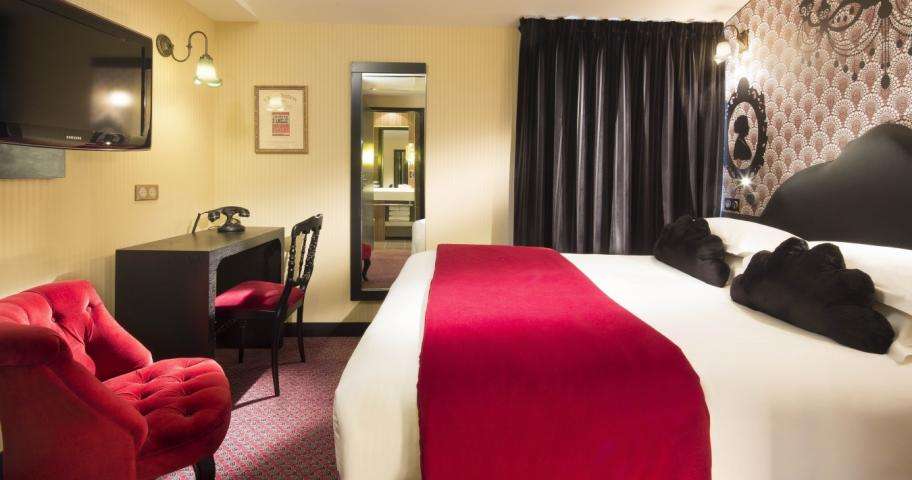 Valentine's Day; some recommendations for a romantic getaway
Published on 19 January 2015 in Special Offers Hotel Les Théâtres
For the ideal romantic getaway, why not celebrate Valentine's Day in Paris at the Hotel Les Théâtres? To tempt you we have a special offer that is sure to help in enhancing the amorous mood. We also have a place in our hotel where you can enjoy a pampering moment or several. Additionally, we would like to recommend some outstanding restaurants in our vicinity for your intimate dinner for two.
Let the Hotel Les Théâtres be your Valentine destination
Here at the Hotel Les Théâtres we can guarantee the comfort, pampering and privacy that will make this coming Valentine's Day one to remember for you both. To begin with, we have our special Love Box offer. This package includes a night's stay with breakfast included and one of our delightful love boxes and its surprise contents. You might also wish to take advantage of our hammam, where any remaining stresses and tensions will be swiftly soothed away so that your mind can turn, unencumbered, to thoughts of romance. Then step into the tranquil cosiness of our lounge bar to enjoy a quiet drink before stepping out for dinner.
Superb restaurants close to the Hotel Les Théâtres
Talking of dinner, we have some superb restaurants close to the hotel that we are sure you will enjoy. Paris is renowned for brasseries that seem to come from a lost age of elegance and glamour, and yet offer the finest of cuisine. We are fortunate in having three close by. The Brasserie Flo is almost hidden in a charming courtyard just off the Rue Faubourg Saint Denis. Established in 1918, it offers an interesting blend of French and German culinary influences from the Alsace region. The Brasserie Julien offers Art Nouveau splendor in a listed building and cuisine that has a Parisian style elegance with a creative modern twist. Le Vaudeville is decorated in the Art Deco Années Folles style and dates from the 1800s when it was the bar of a theatre. Superior food and service is guaranteed.
Brasserie Flo
7 cour des Petites Ecuries, Paris 10e
Tel : +33 (0)1 47 70 13 59
Metro : Strasbourg-St Denis, lines 4,8,9 - Jacques Bonsergent, line 5
Le Vaudeville
29 Rue Vivienne, Paris 2e
Tel : +33 (0)1 40 20 04 62
Metro : Bourse, line 3
Julien
16 rue du Faubourg Saint-Denis, Paris 10e
Tel. +33 (0)1 47 70 12 06
Metro : Strasbourg St Denis, lines 4,8,9

---
Hotel Les Théâtres, an elegant 4* hotel in the heart of Paris