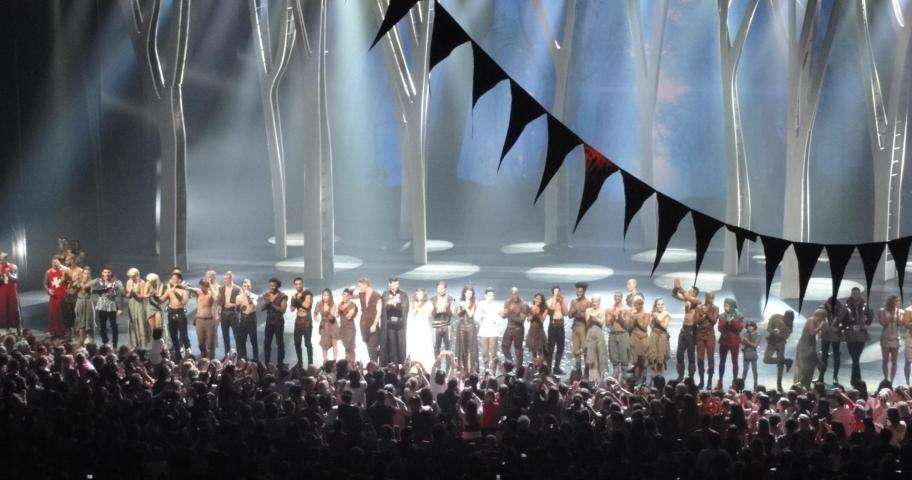 Two musicals to end the year in style
Published on 19 November 2015 in Entertainment
If ever a theatrical genre is particularly suited to the holiday season it is surely the musical. Hotel des Theatres recommends two glittering musicals that have brought together both critics and the public and which are certain to be a highlight of your stay in Paris: "Singin in the Rain" from 27th November to 15th January at the Théâtre du Châtelet, and "Mistinguett" at the Casino de Paris until January 3rd. Music and happiness galore!
A new look for "Singin 'in the Rain"
There are certain Hollywood icons that we approach with great respect and which require tremendous talent and consciousness to produce. This is certainly the case with 'Singin in the Rain' presented by Jean-Luc Choplin, director of the Théâtre du Châtelet, and choreographed by Stephen Mear. Of course it would be easy to dismiss the musical cult associated with the heyday of the American musical and the sensational performance of its star and co-director Gene Kelly. However, Singing in the Rain, Paris version, stays true to the original and has been received in a storm of cheers and widespread praise since its opening night.
An exceptional cast and director
The secret of its success is its actors-singers-dancers. The talented duo of Dan Burton and Clare Halse are charged with the difficult task of interpreting the legendary roles of Don Lockwood and Kathy Selden – not to mention the rattling voice of Lina Lamont, while the quality of the secondary roles is exceptional. But it's the brilliance of director Robert Carsen as he takes on the enormous feat of ensuring the subtle transition from silent film at the dawn of Technicolor to the stage spectacular we love today that is outstanding. The famous Singin 'in the Rain echoed by the whole cast in yellow slickers under a downpour and with colourful umbrellas is one of the most notable anthology pieces. And, there has to be a special mention for the Paris Chamber Orchestra, led by Brit Gareth Valentine, who manage to sublimate the unalterable melodies of Nacio Herb Brown.
Relive the comeback of Mistinguett at the Casino de Paris
Another place, another atmosphere with the spectacular show "Mistinguett, Queen of the roaring twenties" until January 5. The show tells the tale of a singer's dazzling comeback to the Parisian stage in 1920 and chronicles her adventures as this creative revue unfolds at Casino de Paris. A musical success that is due as much to composers and directors Jean-Pierre Pilot and William Rousseau as to Carmen Maria Vega's choice of endorsing the banter with appropriately sparkling clothes as she ably takes on the lead role. Richard Fabian is suitably amazing as unrepentant mafia thug, Scipio.
Two high-flying performances that are the perfect way to end the year in style.