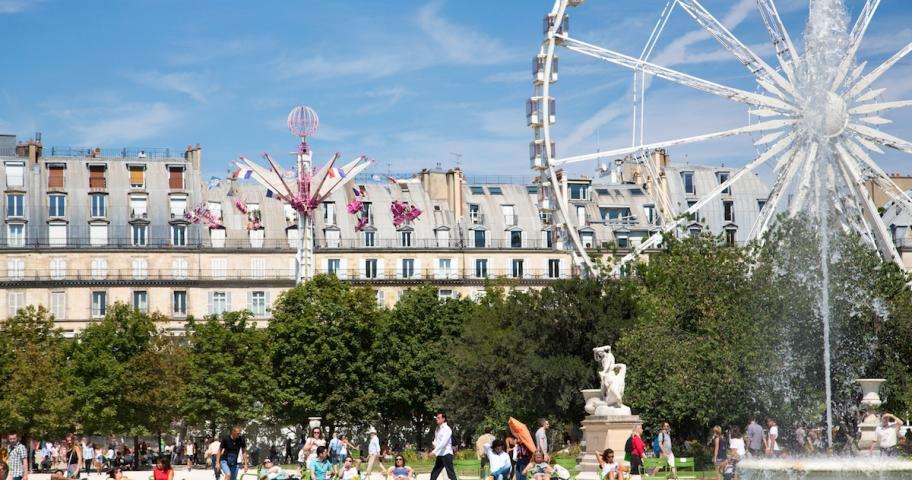 Tuileries funfair: laughter guaranteed!
Published on 9 June 2016 in Fairs &Trade shows
Fun times in the capital as the carnival at the Tuileries Gardens gets into full swing from 27th June to 23rd August. Enjoy a summer day out with family or friends, or go along on your own to explore over 80 rides and attractions with a delightfully retro theme.
A legendary event that appeals to both adults and children
The magnificent Tuileries Gardens comes to life each summer as the famous carnival gets underway and it's just 20 minutes from Hotel Les Theatres. From the Big Wheel at the foot of the Place de la Concorde go on to discover charming classic attractions like carousels with painted wooden horses, the ice palace, the ghost train, the rifle range, and the dodgems. Games and sideshows will evoke nostalgic memories of yesteryear and give your children the chance to create wonderful memories of their own. Who knows, in a few years, they might return to the Tuileries summer funfair with their own children.
The perfect backdrop for unforgettable photos
Between the trampoline, the cotton candy and the duck fishing basin, the Tuileries Gardens offers you a unique opportunity to capture your most memorable moments in a spectacular setting on film. Your most thrilling moments can be immortalised forever. Gather your family and friends together for a colourful picture that looks like a vintage photograph – it's a wonderful keepsake and a great way to share moments of fun and laughter with friends. You can even choose the perfect accessories for your photo shoot; be sure not to forget to include not to be missed delicacies like candy floss and toffee apples. After a fun day spent in the Tuileries, what could be better than the calm and comfortable setting of one of our charming rooms at Hotel Les Theatres? Our friendly, four-star establishment looks forward to welcoming you and your family this summer.