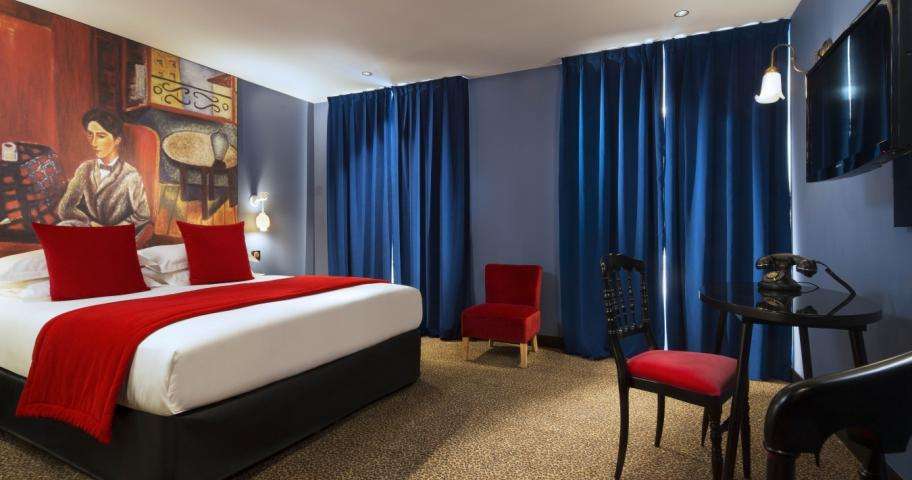 Try a Superior Room in the Hotel Les Theatres
Published on 14 February 2015 in Hotel Les Théâtres News
When you step inside the Hotel Les Théâtres you will find yourself in a world rich with the ambience and imagery of the theatre. Our rooms pay homage to three of the greatest creators to lend their talents to that particular art form; Molière, Feydeau and Cocteau. It is of our Cocteau universe that we wish to tell you this time; specifically the Superior Rooms we offer that so beautifully embody that universe. When you stay in a Superior Room at the Hotel Les Théâtres you will find yourself enjoying not only superior comfort and superior facilities, but also a journey into the heart and soul of Jean Cocteau, one of the greatest creative minds that France has ever given to the world.
The comfort and convenience of our Superior Rooms
When the time came to choose themes for the rooms at the Hotel Les Théâtres, it was inevitable that we should pay homage to Jean Cocteau (1889 – 1963) the French playwright, film maker, artist, actor, novelist and designer. Perhaps best known for his richly imagistic and symbolic movies Orpheus and Beauty and the Beast, he was one of the 20th century's most multi-talented creators, whose words were powerful, precise and uniquely beautiful. Our Superior Rooms, especially, are an attempt to express the sensitivity and exquisite taste of Cocteau, with colourful carpets, superb lithographs and gorgeously designed lighting.
These Superior Rooms are well-appointed and available in double or twin, with a generous spaciousness afforded by their 13 and 15 m² sizes. Staying here, you will enjoy free WiFi and individually controlled air conditioning, a flat screen TV, a safe, a minibar and a private en-suite bathroom with hairdryer, home products, bathrobes and slippers for your added comfort. This is most definitely superior accommodation, combining comfort and functionality.
Such is the level of comfort that you might even be reluctant to leave your Superior Room to partake of our hearty and delicious breakfast, honesty bar, lounge area and hammam!
---
Hotel Les Théâtres, an elegant 4* hotel in the heart of Paris