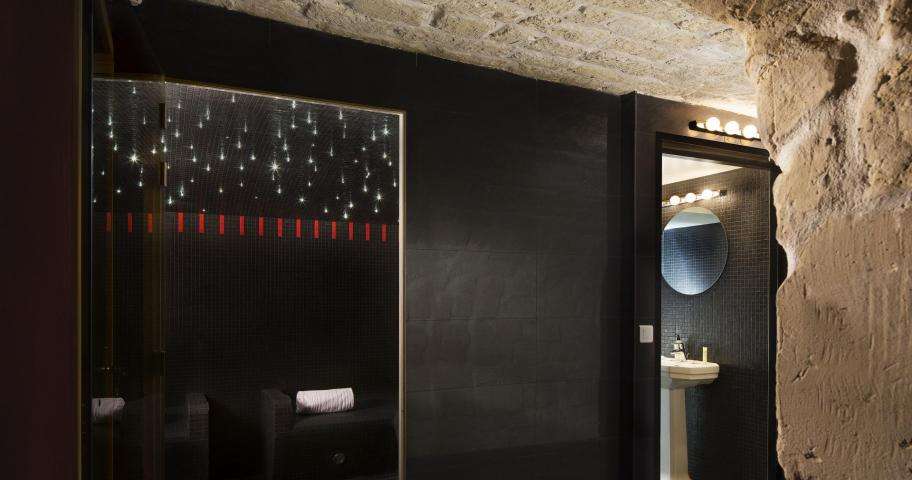 Try a rejuvenating hammam
Published on 15 November 2018 in Hotel Les Théâtres News
Paris at Christmas is an uninterrupted frenzy of lights, entertainment, shopping, music and parties. This flurry of activity can be tiring so it's well worth taking a moment to refocus and refresh yourself. And, of course, Les Theatres Hotel has thought of everything!
Our hammam – a moment just for you
Les Theatres is the ideal base for your stay in the heart of Paris. A stone's throw from the Grands Boulevards, it allows you to link shopping sessions in the department stores and avant-garde shops of the Marais with cultural visits to the Louvre and the Pompidou Centre or evening shows at some of the city's top theatres and cabaret clubs. To recover from all this activity, Les Theatres offers services that are designed to preserve your well-being and tranquillity.
Follow us to the hammam
Go down a few steps to reach the hotel basement and you'll discover the haven of peace and wellness that is our hammam. Open daily from 10:00 a.m. until 10:00 p.m., it's the perfect spot to relax after a busy day or after a hectic evening. Just call the front desk to reserve your slot. You will have the place to yourself allowing you to enjoy a peaceful break as you get rid of tension and refocus on yourself. An indispensable stop amid the holiday madness! Paris is a vibrant round of activities, parties and outings. The city contains so many wonders and surprises that it can sometimes be difficult to just stop for a few minutes. That's why Hotel Les Theatres invites you to step of the merry-go-round and still the rush with a session of deep relaxation in our hammam. You will emerge invigorated and full of energy, ready once more for all the magic of Paris at Christmas.
******
---
Hotel les Théâtres, a 4-star boutique hotel in the heart of Paris