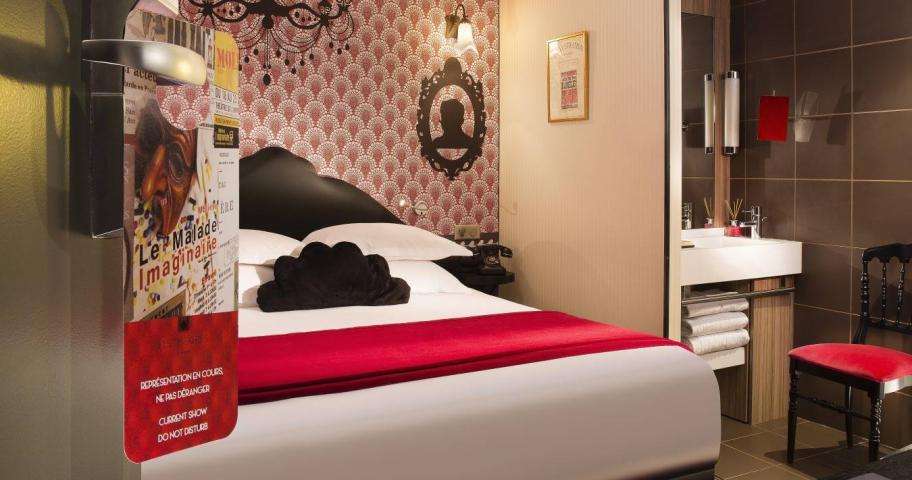 Tribute to Feydeau at the Hotel Les Théâtres
Published on 20 December 2015 in Hotel Les Théâtres News
Feydeau, along with Molière and Cocteau, is one of the most important dramatists in the history of French theatre. That's why at Hotel Les Theatres we've chosen to honour him by dedicating unique rooms to him alongside those two other big shots of the French theatre.
Feydeau, the great master of vaudeville
Georges Feydeau was a playwright from the late nineteenth to early twentieth century. He excelled in the exciting genre of vaudeville and his works both contributed to its golden age and helped to make it the thrilling theatrical spectacle that we know and love today. Vaudeville is basically a situation comedy that is, in most cases, based around that eternal love triangle, the husband, the wife, and the lover and which gave birth to that universally famous phrase 'Oh God! My husband!' The genre is both satirical and entertaining but it never has any psychological or moral intentions; instead it is a rich concoction of humorous plot twists and ridiculous misunderstandings. Feydeau was a master of farce and comedy timing, and 'La Dame de Chez Maxim', 'Monsieur Chasse!' and 'Un fil à la patte' are among his most famous works.
Feydeau rooms at the Hotel Les Theatres
The Feydeau rooms are designed, furnished and decorated in elegant classic style and can accommodate one or two people. Each room is fully equipped with all the modern facilities you require yet it evokes the style and times in which Feydeau lived through chic furniture and fittings that will delight lovers of original nineteenth century décor. Enjoy a stay in one of our Feydeau rooms and immerse yourself in the heady world of this famous playwright for one or several unforgettable nights. Why not complete this unique experience with a visit to a performance of a Feydeau play at the theatre?