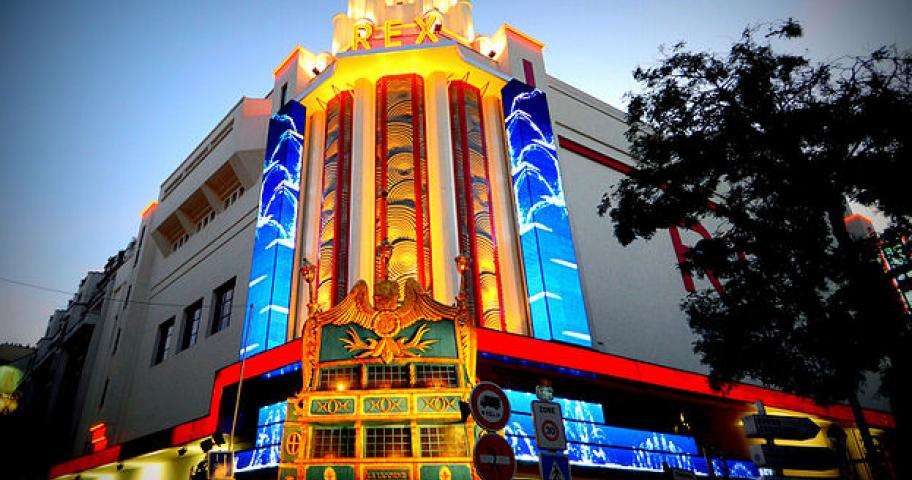 The most splendid of cinemas; the Grand Rex and its shows
Published on 5 April 2019 in Visit Paris
Because we love spectacle and great art, panache and superb architecture, we're bursting to tell you about one of our famous neighbours; the Grand Rex. It's only a five-minute walk from our Hotel Les Théâtres and yet, in a sense, it's a world apart ...
The Grand Rex; an experience in itself
The Grand Rex is not just a cinema, it's an experience. Built in the 30s and intended to be the most beautiful movie theatre in Paris, it represents a profound passion for the 7th Art but also embodies the creativity of an era. When you step into the Grand Rex you go back into a more glamorous time. The star-studded vault of its ceiling, which reaches 30 metres in height, the lavishly painted walls, Art Deco architecture and the sumptuous proscenium arch framing the stage are timeless style statements. Since 1981 the building and its décor have been listed in the inventory of Historic Monuments.
Films and concerts
During your stay at the Hotel Les Theaters, you can decide on a whim to catch a showing at the Grand Rex. The biggest movies of the moment are presented there. By making sure to book in advance, you can also attend one or more of the many live concerts and shows that grace this magnificent venue's stage. On the schedule for April are performances by Beirut, Mike Horn and Bob Dylan, a concert dedicated to the works of Michel Legrand and a conference on parenting presented by Isabelle Fillozat. You're sure to find a show to your liking!
Parisians love this legendary cinema. They'll tell you that a big movie simply must be seen at the Grand Rex. Take advantage of the proximity of your hotel and catch a screening or a concert!
******
More information :
Credit Photo: A.hellmann // Licence
---
Hotel les Théâtres, a 4-star boutique hotel in the heart of Paris