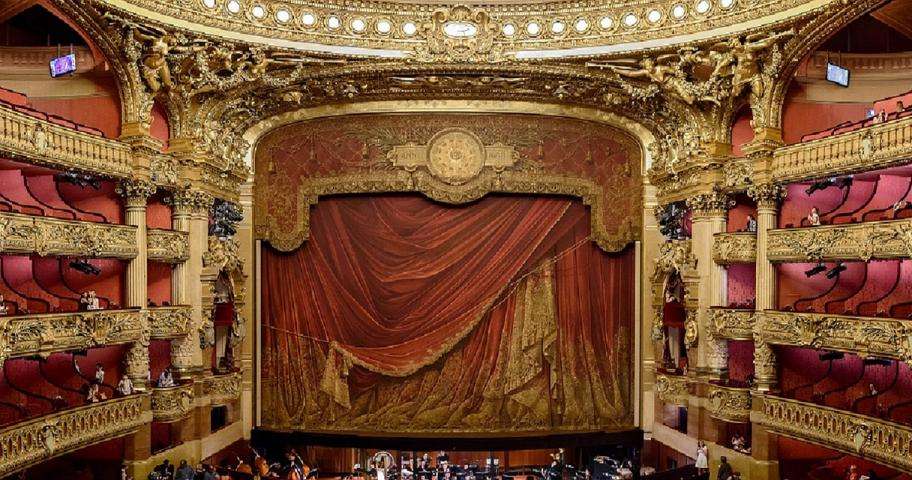 The most beautiful theatres in Paris
Published on 14 August 2017 in Entertainment
During your stay in Paris, why not discover some of the capital's most beautiful theatres? And, good news! You've chosen the right place to stay. The Hotel Les Theaters offers a refined atmosphere of historic elegance, showmanship and glamour
The Palais Garnier
An architectural gem, this wonderful building is distinguished by its baroque-style decor and delicate arabesques. You've scarcely set foot inside before you're entranced by the magnificent Pythonisse who waits to welcome you. Pass the paintings and sculptures and take the sumptuous Grand Staircase to the theatre.
Le Théatre du Chatelet
If you're interested in theatre décor then this is the place to visit. Enjoy its complete repertoire and discover its architectural heritage through a behind the scenes look at one of the city's best-loved historical buildings.
Le Cirque d'Hiver
Enchanted and enchanting, this theatre was once called the Cirque Napoléon. Today it welcomes the greatest international artists with their exceptional circus acts. Whether you visit to experience the magic of a show or just to look, it's a building that shouldn't be missed.
Le Moulin Rouge
No stay in Paris is complete without a visit to the world's most beautiful cabaret. Since 1889, this birthplace of French music hall has not ceased to offer performances that as breath-takingly dramatic and colourful. Lively music and the authentic French cancan - it's well worth booking a dinner show at this mythical venue.
Le Trianon
You can always expect an excellent programme at Le Trianon. This magnificent venue offers a vast range of entertainment that includes evenings of dancing, seated dining, shows and a museum. It has become one of the capital's premier spots for outings that combine great entertainment with a welcoming atmosphere that's rooted in history.
Hôtel Les Théâtres
98 Rue de Cléry, 75002 Paris
01 44 82 50 82