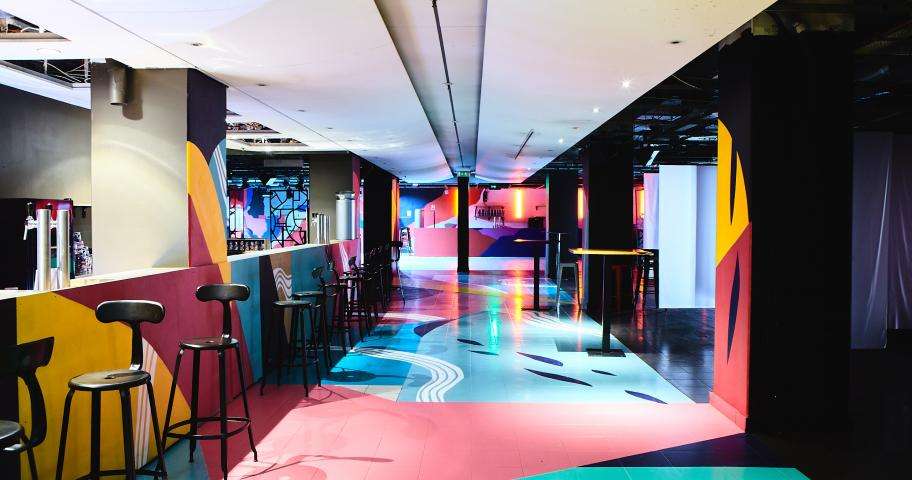 The Grande Surface - Galerie Festive; experience art and life!
Published on 5 July 2019 in Entertainment
Your Hotel Les Théâtres likes to keep a finger on the pulse of everything stirring in the Parisian art and entertainment circles. This time, we've decided to tell you about the latest creation of the innovative people at Passage Enchanté. Their hot new concept is called the Grande Surface - Galerie Festive.
Defining the Grande Surface - Galerie Festive
Some will tell you it's just an art gallery, while others insist it's a place where you can have a drink and enjoy live DJ sessions. The Grande Surface - Galerie Festive is, of course, all this but also many other things. This former supermarket in the 9th arrondissement has been converted into an exhibition and artistic happening space, but it's also intended to be a place rich with life, offering entertainment, a restaurant, bars and more. There is always something going on!
Experience the Grande Surface - Galerie Festive
If you're passionate about contemporary art, you'll want to visit the Grande Surface to study the eclectic works of the artists being exhibited. The opportunity should not be missed as some works are temporary, having been created especially for the place. You'll also want to check out the programme of festive evenings, DJ sets and thematic days. But, most of all, simply let the place surprise you. Pop in on the spur of the moment and treat yourself to an aperitif, a snack, some moves on the dance floor, a chat with an artist and a look at the works on display.
The Grande Surface - Galerie Festive opens every day at 11:00 am to invite you to enjoy an offbeat, casual, refreshingly different experience; a truly uninhibited encounter with art. Go along and discover the wonders of the place. Please note that the gallery will be featured at the Jardin Suspendu this summer until it reopens in early September.
******
More information:
- La Grande Surface - Galerie Festive
Crédit photo : © elliotbrou
---
Hotel les Théâtres, a 4-star boutique hotel in the heart of Paris