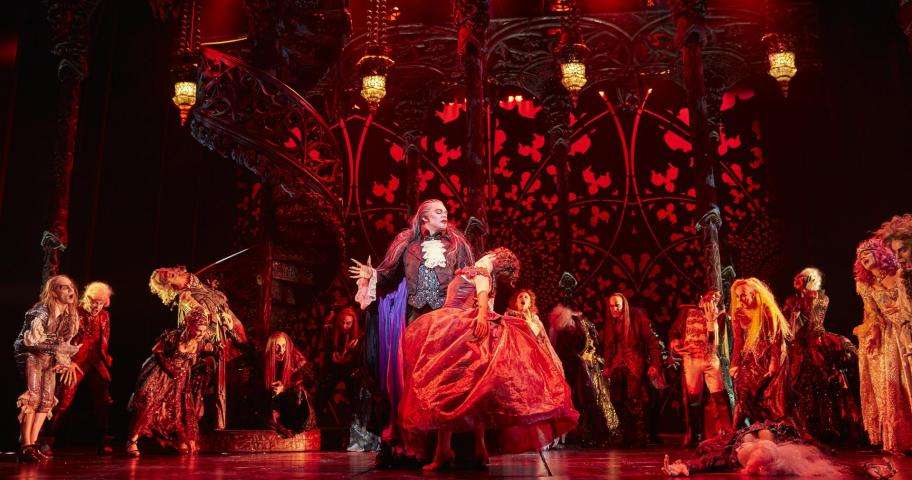 The Dance of the Vampires at the Théâtre Mogador
Published on 22 March 2015 in Entertainment
At the Théâtre Mogador until June 28th, 2015 you can enjoy the fang-tastic delights of the comedy musical Le Bal des Vampires (The Dance of the Vampires), a production directed by the great filmmaker Roman Polanski. It's presented by Stage Entertainment, who brought you such smash musicals as The Lion King, Mamma Mia, Cabaret and Sister Act. This latest show has played since 1997 in more than 12 countries, delighting some 7.2 million theatregoers, and has now come to France for the first time.
A cult film becomes a musical comedy
The fondly remembered 1967 spoof horror movie, The Fearless Vampire Killers, was directed by Roman Polanski and has become something of a cult through the years. The thrills, chills and outrageous humour of the tale made it a natural for the stage, and with a book by Michael Kunze and songs by Meat Loaf's collaborator Jim Steinman, here it is! You'll be swept up by the story as kooky Professor Abronsius and his assistant, Alfred, plunge into the heart of Transylvania looking for vampires. Sarah, the innkeeper's beautiful daughter, is seduced by the sinister yet compelling Count von Krolock, who turns out to be a fanged creature of the night; a vampire. He won't let her go, so our two protagonists embark on a perilous rescue mission as the vampires prepare to rise from their graves and party.
An astonishing spectacular
For over 2 ½ hours you will be immersed in a magical world of fun and excitement. The sets offer a grand and lavish spectacle, with amazing landscapes and stylized designs. In the heart of the snow-capped Carpathian Mountains, in a creepily menacing cemetery or within the walls of a monumental castle, you will be dazzled by the brilliantly created sets and wonderful costumes. The rock ballads soar, the choreography is amazing and the atmosphere truly unique. Quirky, funny and spine tingling, this production is a triumph. Chills guaranteed!

Le Bal des Vampires
Théâtre Mogador - 25 Rue de Mogador 75009 Paris
+331 53 33 45 30
Métro 12 – Trinité or RER E – Haussman Saint-Lazare
---
Hotel Les Théâtres, an elegant 4* hotel in the heart of Paris