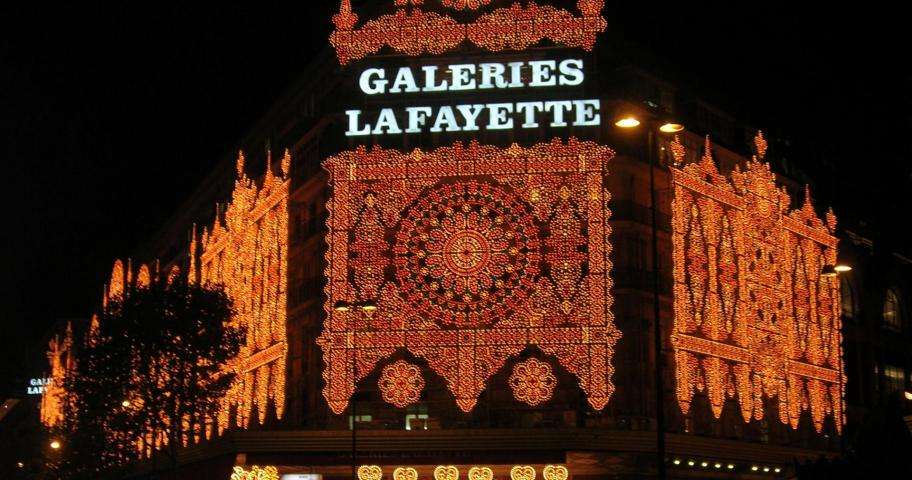 Shop windows and Christmas lights
Published on 9 November 2016 in Visit Paris
With the end of year holidays fast approaching, the store windows of Paris are starting to put on their Christmas decorations.
Spectacular illuminations
It's with a quiet joy and good humour that the city starts preparations for its Christmas lights and illuminations. Dozens of city stores are enhanced by the spirit and atmosphere of Christmas. Shops and department stores start to reveal their festive decorations and offer superb light shows of their own. Markets spring up, offering a wide range of products of every type to complement the festive celebrations. A not to be missed attraction, the decorative store window animations are a charming seasonal addition to the city and this is the time of year when Paris displays another form of togetherness and romance. Towards the end of the year, the city dons its festive lights and decorations, showcasing its famous monuments and adding markets and seasonal events to its many magnificent attractions. Be sure to discover the many surprises that leading brands have in store – whether a surprising decoration or an exclusive offer.
A warm and festive atmosphere
The atmosphere in Paris heats up as the city is revealed in a new festive light. A variety of family activities are available, making the capital the ideal choice for the Christmas holidays. Paris seduces visitors with its decorative and colourful Christmas windows as well as with exciting attractions and unique events. Les Theatres Hotel is the perfect base from which to enjoy the festivities and discover the city. Its opulent rooms are decorated for the season and the hotel welcomes you with open arms. Our efficient, high quality service ensures that you have an enjoyable stay in Paris for the end of year break. Plus, we also offer various Christmas themed activities to enhance your visit