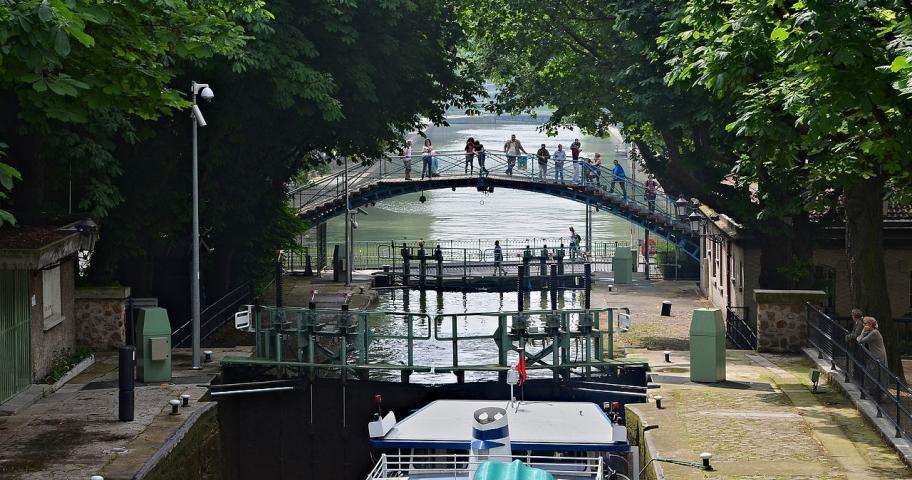 Ride along the Canal Saint Martin, an essential trip
Published on 9 August 2016 in Visit Paris
Inaugurated in 1825, the Canal Saint-Martin meanders through 5 districts in the heart of Paris. Since the Marcel Carne film "Hotel du Nord" was shot with Louis Jouvet and Arletty in 1938, the Canal Saint-Martine has been wreathed in glamour. The canal is 4.5 km long and with its 9 locks it symbolises the bohemian spirit of Paris. Its picturesque course is one of the city's t popular places to stroll, eat out, or picnic on the banks from the first sunny days. Hotel Les Theatres invites you to take a little trip on the water.
Take a seat on the terrace by the canal
The canal bank is home to numerous restaurants where you can try original and delicious international cuisine. Menus vary daily according to market finds, seasonal produce and the mood of the chef. Hai Kai (104 Quai de Jemmapes), El Guacamole (110 quai de Jemmapes) or the Comptoir Général (80 quai de Jemmapes) are some of our top addresses. It's also worth stopping at Point Ephemere; this waterfront facility offers one of the most beautiful rooftop views of Paris and it's an offbeat, underground arts centre that regularly stages exhibitions and rock concerts.
An incomparable library and garden
The famous Artazart design bookstore is recognisable by its red façade. This concept store dedicated to the image will satisfy your creative appetite and offers a wide selection of books on design, graphics and photography. Watch the charming ballet of boats from the shady banks of the Canal or venture a little further up to the Jardin Villemin where you'll find shared gardens that are lovingly tended by local Parisians. End your day at Opus (161 quai de Valmy) for a concert of jazz, gospel, soul and funk.