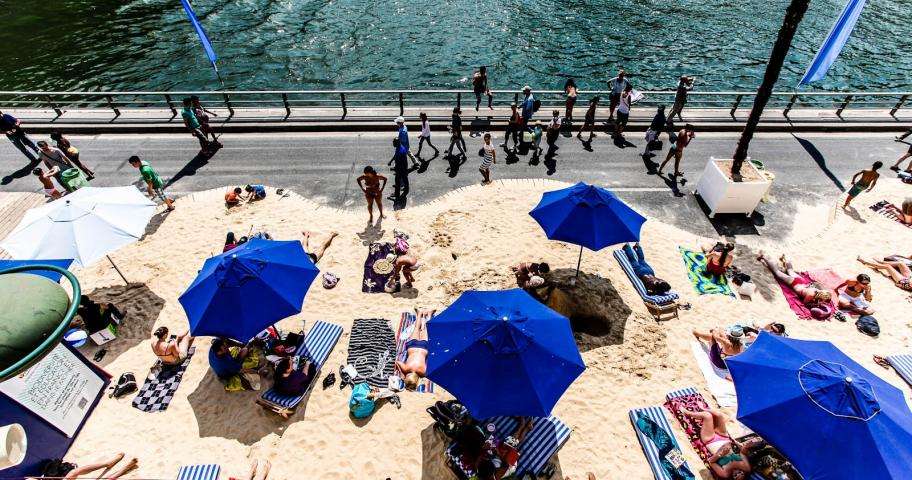 Refreshing days at Paris Plages
Published on 21 July 2015 in Events
Enjoy a vacation at the seaside- while you're in Paris. The Paris Plages festival is back, and once more the banks of the Seine will be a sandy oasis where you can enjoy fun playgrounds and tropical refreshments on the beach.
Gone are the prejudices that Paris in summer is all stifling heat, closed shops and empty streets. Now, sunny days in Paris mean that you can take a break from the hectic pace of the city at pleasant relaxation spots - on the beach. Just like anywhere else, people in Paris enjoy the sun, and Paris Plage brings the seaside to the city with sun, sand and water. Paris Plages takes place from 20th July to 18th August this year, and the city offers beautiful sandy beaches complete with blue beach umbrellas on the banks of the River Seine. On the programme: sunbathing and aperitifs with friends as you indulge in the pleasurable feeling of dipping your feet in the water. Sunbathe on the beaches or try some of the many activities on offer. For example, at the Bassin de la Villette you can try your luck at beach boules, take a canoe ride or just linger over refreshments. As the end of the day draws near and you're sated by sun and relaxation, it's the perfect time for a visit to the cinema - in particular the 15th edition of Moonlight Cinema organised by the Forum des Images. Films will be shown outdoors in some of the city's most iconic places such as Montmartre, the range of the Vosges, Montsouris or the Place des Fêtes. All screenings are free and it's a great chance for you to see cult films and classics. This year Moonlight Cinema will take place from 30th July to 8th August. The programme: join people on their way home from work or other holidaymakers for screenings of new and classic films in the park on warm summer evenings. The perfect end to days spent taking part in summer activities or sunbathing on the beach.
And to help you prolong the summer spirit, why not take advantage of this tempting summer offer from Hotel Les Theatres? Immerse yourself in the comfort of a luxurious room with breakfast for two from 149 euros per night. Our offer also includes an Adrien & Louis box and a bottle of rose wine. Ideal for a tasty picnic on the 'beaches' of Paris!
Picture credits: Sharat Ganapati