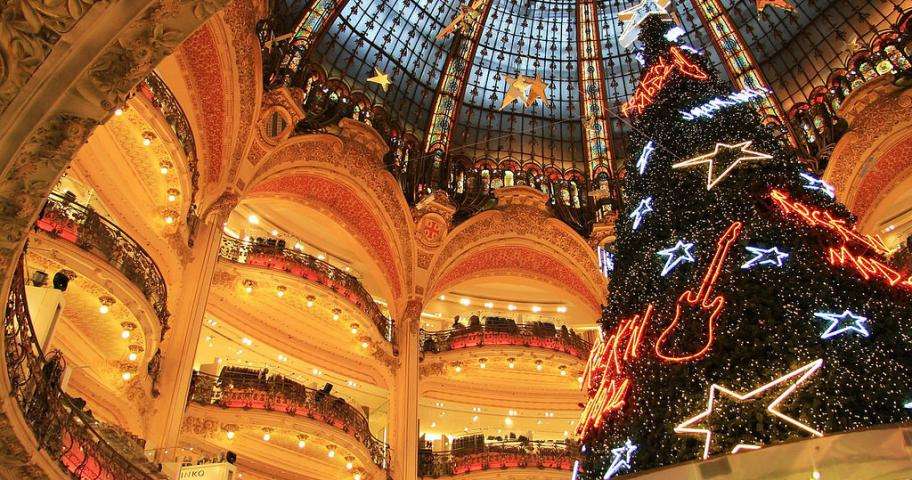 Prepare for a Christmas shopping in Paris
Published on 5 November 2018 in Fashion & Shopping
As Christmas approaches, the City of Light takes you on a whirlwind of festive activities and events that cater to all the tastes. Toys, fashion, jewellery, leather goods, delicatessen products – you're always sure of finding desirable items to treat yourself or spoil your loved ones. Take advantage of the Les Theatres Hotel's strategic location to enjoy truly satisfying shopping trips.
A magical Christmas shopping location
In one of the liveliest districts of Paris and only a few steps from your hotel, Les Theatres, you'll find the famous Galeries Lafayette and Printemps Haussmann department stores. Their magnificent architectural highlights illuminated and adorned with Christmas decorations, they offer a seemingly endless choice of gifts. Prestigious brands, selected labels, original or unique gifts, these two upscale department stores promise an outstanding Christmas shopping experience. And if you need a breath of air, just lean against one of the top floor balconies to admire the view and look over the bustling crowds below.
Much more than just shopping
Of course, you will find everything you need to make Christmas memorable in Printemps Haussmann and Galeries Lafayette. However, your department store shopping trip is also the ideal time to revel in the enchantment of the festive season as illustrated by their beautiful window displays. Ingenious and innovative sketches, automatons, and scenery, these little theatres present a unique slice of Christmas. Finally, if you need to take a short break before continuing your shopping, both stores have excellent bars and restaurants. For a Parisian, Christmas shopping inevitably includes the department stores. If you've run out of inspiration or festive cheer, these fabulous stores will dazzle you with the magic of Christmas. A lively but rewarding whirlwind of activity before you return to the warm and relaxing atmosphere of Les Theatres Hotel.
******
For more information :
- Galeries Lafayette
- Printemps Haussmann
Photo credit : © Campus France - Flickr
---
Hotel les Théâtres, a 4-star boutique hotel in the heart of Paris