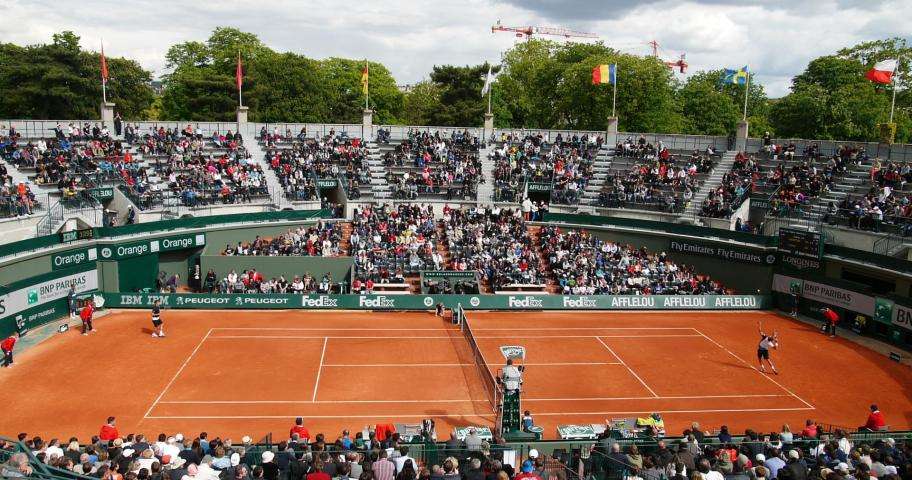 Paris sporting news, the yellow ball will soon return to Roland Garros
Published on 19 April 2016 in Events
Enjoy a stay at the Hotel Les Theatres to discover or rediscover the French Open, one of the most anticipated sporting events of the year. Whether you're a tennis fan or just curious about the game, you're sure to be impressed by that unmistakeable thunderclap the balls make as they bounce off the legendary red clay courts.
The most famous fixture in the tennis world
The legendary French Open tournament will return to the city from 22nd May to 5th June. As every year, the elite of the tennis world will descend on Porte d'Auteuil for 15 days for the world's greatest clay court event. Who will win this year? In the men's tournament the battle will be fierce among Rafael Nadal, Rodger Federer and Novak Djokovic. With Serena Williams in better shape than ever it promises to be an exciting year for the women, including the new generation of players such as Anna Ivanovic or Eugenie Bouchard. The 2016 edition promises to see bigger clouds of red dust than ever flying from the Philippe Chatrier or Suzanne Lenglen courts. Apart from the highly anticipated men's and women's, the French Open also features many other events and qualifications will be held from 16th to 20th May 2016.
At Roland Garros the show is also in the stands
As every year, the famous tournament will tempt celebrity spectators who love that little yellow ball and come along to support their favourite tennis stars. Last year Jean Dujardin and Nathalie Pechalat, Patrick Bruel, Julien Doré, Hugh Grant, Pierre Niney, Bradley Cooper and many others all made an appearance in the audience. Some come just for fun while others like Miss France come as part of their official duties. This famous tournament was established in 1928 and each year it attracts more spectators. If you want to attend, be sure to book your tickets online as tickets are not available for sale at the stadium gates.
Picture credits: Leica Passionara