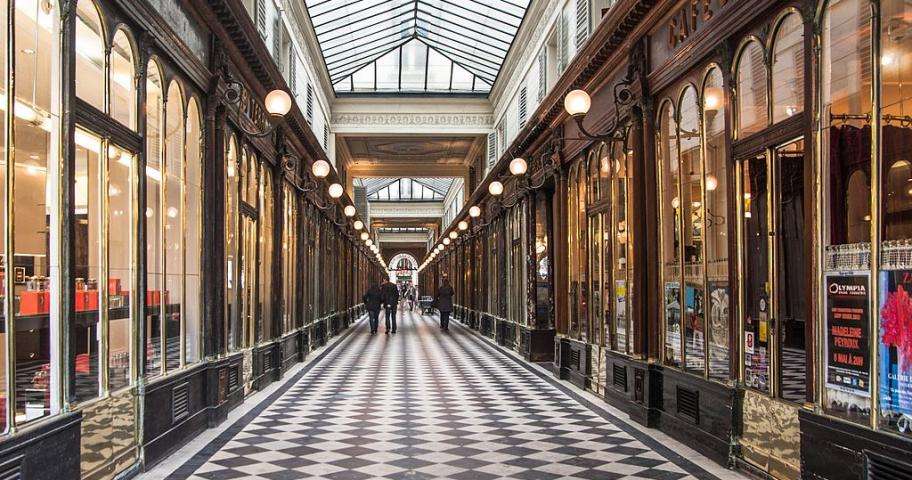 Let's take a walk in the arcades!
Published on 19 September 2016 in Visit Paris
Built mostly in the 19th century, the galleries of Paris are architectural curiosities –long passages lead to galleries topped by the roof windows that are so typical of the city. You'll find shops, tea rooms and restaurants in structures that are modelled on the Arabian souk. There are still more than 30 of the 100 original galleries in the capital and they're located close to the Grands Boulevards. Their golden age began with the advent of the department store, and Hotel les Theatres is delighted to present a selection of its favourites.
Le Passage du Caire (2nd arrondissement)
Built in 1798, le Passage du Caire (Cairo) in the Sentier district is the city's oldest. It was named for the Egyptian capital because of the three statues representing the goddess Hathor with cow's ears at its entrance. This passage boasts the longest and narrowest fishbone style glass roof in Paris and it's mainly home to ready-to-wear wholesalers. There are several entrances including those at rue d'Alexandrie, rue Saint-Denis and rue Caire.
Passage du Bourg l'Abbé (2nd arrondissement)
Designed by architect Henri Blondel in 1863, this 43 m long passage runs from the Rue Saint-Denis to the rue Palestro. It was largely abandoned following a recent fire but will soon be renovated as part of an extensive restoration project dedicated to the covered passages of Paris.
Passage Vendome - (3rd arrondissement)
Le Vendôme passage connects the rue Beranger to Place de la Republique and provides access to le boulevard du Temple for the du Sauveur convent girls. Built in 1827, it enjoyed a heady reputation in the 19th century. It's currently in a degraded condition and requires restoration.
Galerie Vivienne - (2nd arrondissement)
Built in 1823 and located behind the Richelieu library near the Palais-Royal, the Galerie Vivienne is one of the city's most iconic galleries. It is appreciated for its calm, for the beauty of its colourful mosaic floor and for its stunning light reflecting canopy. There are numerous shops, boutiques, tea shops, delicatessens and wine cellars for you to explore and the Galerie Vivienne can be accessed via the street near le Banque du Vivienne. Well worth seeing!
The Passage Choiseul, (2nd arrondissement)
Completely renovated in summer 2013, the Passage Choiseul in the Opera district is the longest of all. We love the glass roof that illuminates the gallery beautifully. Plan an unusual outing and enjoy a relaxing break or gourmet meal at Bar Nap! There are two entrances, one at 40 rue Dalayrac and one at 23 rue Saint-Augustin.
Passage Jouffroy - (9th arrondissement)
This passage was built in 1836 and it's one of the busiest in Paris. It is noted for its beautiful glass arched ceiling, its iron and glass structure and its marble floor. The gallery is home to the wax museum with its famous hall of mirrors and at weekends the passage takes on the atmosphere of a 19th century Parisian brew house. You'll also find the Hotel Chopin, famed for its tiny rooms, and iconic tearoom, Valentin and you can access the passage from 9 rue de la Grange Bateliere.
Passage du Grand Cerf (2nd arrondissement)
Passage du Grand Cerf in the Montorgueil district is a stunning metal and wrought iron structure. Its 12 metre high roof shelters exquisite craft shops, furniture design houses and jewellers who exist side by side in perfect harmony. There are also many niche businesses dedicated to crafts like knitting, decorative arts and leisure activities. This typically Parisian passage is an essential stop and it can be reached via la rue Dussoubs.