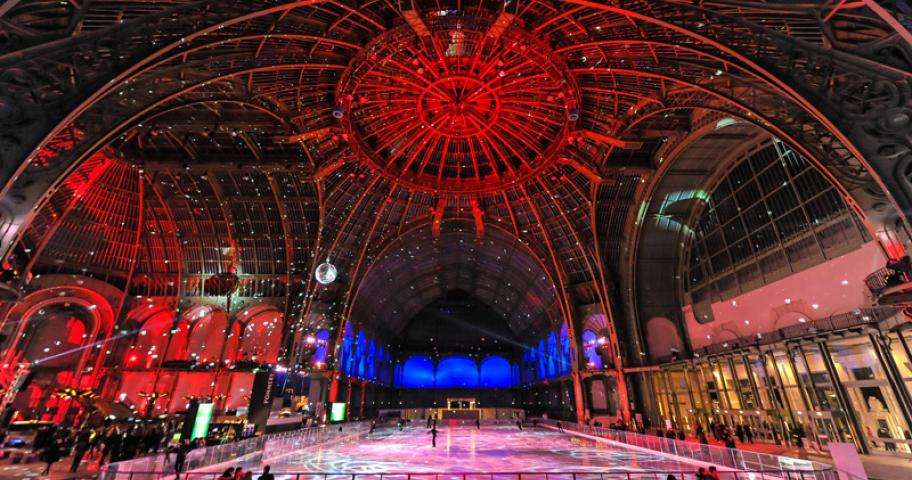 Ice-skating in Paris!
Published on 15 November 2019 in Events
When the cold weather arrives and Christmas looms on the horizon, we get the urge to strap on our skates and take to the ice. To make your dreams of ice-skating in Paris come true, your Hotel Les Théâtres team have put together a brief guide to the capital's best ice rinks!
The major Parisian ice rinks
If you love to skate, then the AccorHotels Arena Bercy ice rink could well be your first choice. This ice rink is open six months of the year and hosts many sporting events. However, to get into the Christmas spirit, we recommend the temporary rink called the Grand Palais des Glaces. For the fifth year in a row, the Grand Palais will be transformed into a huge ice rink, with lighting, music and skate rentals, plus snack bars for a warming drink.
Exceptional ice rinks
How about skating high above the streets of Paris? If that's your dream, don't miss a visit to the pop-up rink on the roof of the Grande Arche de la Défense. At 110 metres high, you'll have a stunning 360° view of Paris at your skate-clad feet. Another rooftop turned into an ice rink can be found on the Galeries Lafayette Haussmann, so you can break up your shopping spree with a skating session before admiring the famous department store's spectacular Christmas display windows. All this is just a short stroll from your Hotel Les Théâtres. Or you can enjoy a touch of luxury with the Plaza Athénée skating rink. Its gourmet chalet offers irresistible delights!
Every year, Paris offers plenty of ways to enjoy the winter season. Hone your ice-skating skills in exceptional locations such as the Grand Palais, Grande Arche and the Galeries Lafayette. Then return to the warmth and comfort of your Hotel Les Théâtres...
******
Photo credit : © Didier Lefevre / Groupe Ludéric
---
Hotel les Théâtres, a 4-star boutique hotel in the heart of Paris