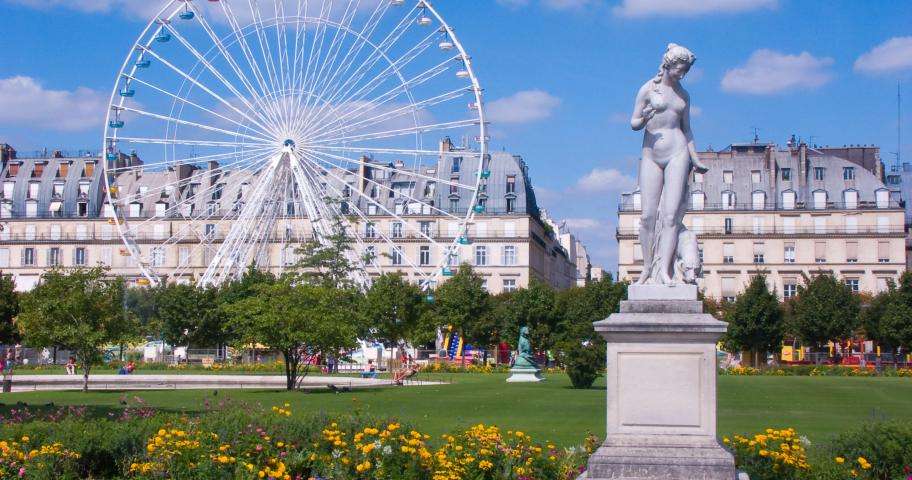 Go green at the Tuileries Garden
Published on 15 June 2018 in Visit Paris
Shopping, restaurants, visits to museums and monuments, frenzied evenings, Paris sometimes makes you want to take a break to catch your breath. When the weather is nice, what better place to relax than the Jardin des Tuileries? Enjoy a picnic or a carnival ride in a place that will make you forget all your cares.
The Tuileries Garden in the heart of Paris
The Tuileries Garden occupies a privileged spot between the Louvre, the Place de la Concorde, the Seine and the upscale districts of the Opera, Madeleine and Place Vendome and gives the impression that all roads lead to it. That's why it's so easy to stop off for a picnic or just to enjoy the sweetness of the air before resuming the frenetic pace of the city. Sit by the edge of the pond, linger on the beautiful gravel paths or by the feet of the Maillol or Giacometti statues in this special Parisian space.
A homage to childhood
From June to August, the Tuileries Garden takes you back to your childhood with the Tuileries Fair. The fairground takes over with carousel rides on wooden horses, ghost trains and dodgem cars as well as stalls featuring traditional target shooting and duck fishing. Peckish? Toffee apples and candy floss will delight all ages as the convivial atmosphere takes us back to the idyllic world of our childhoods. Entrance is free, though ride charges vary.
The Jardin des Tuileries is a space that is dear to the hearts of Parisians. Take the time to visit for a bucolic picnic or to rediscover the joys of childhood during the Tuileries Fair.