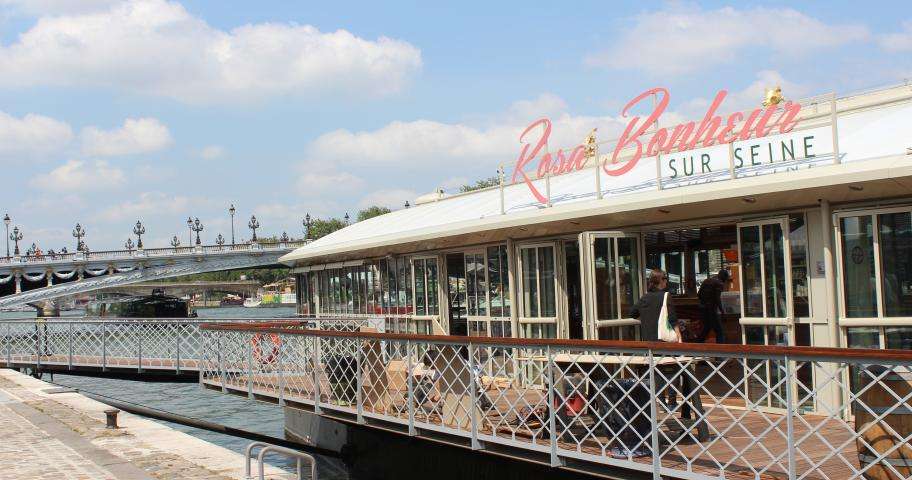 From terraces to beaches
Published on 15 June 2017 in Entertainment
Summer in Paris is synonymous with the terrace. It's impossible to fully enjoy summer in the city without sipping a cool drink on one of its friendly terrace cafes at least once. And would Paris be Paris without its beach? Its beaches, even! Head for Paris Plage from July 8th to September 3rd.
Best of the Parisian terraces
To help you decide, we've compiled a short list of some of the best terraces to be seen at this summer. Of course, that doesn't rule out the possibility that you'll discover a few more places filled with welcoming marble tables and zinc bars that have been polished to perfection over the years as you wander the streets. First, let's pay tribute to one of the oldest bistros in Paris. A classified Historic Monument, the Pharamond has preserved its splendid frescoes, woodwork and paste glass since its opening in 1879. At the other end of Paris, the Rosa Bonheur is in a house at the top of the Buttes Chaumont park. Stop for an aperitif under the trees and enjoy a splendid view as you peruse the excellent wine list. If you're looking for great views, try the Perchoir du Marais. It's built on the roof terrace of the BHV, and it's still one of the city's most popular bars. Another very trendy option, the Opera Paillotte has its summer quarters at the foot of the monument of the same name and you can enjoy colourful cocktails between wooden pilings and palm trees. Finally, moored at the port of Les Invalides, the Le Flow houseboat opens its terrace to gourmands with its "gourmet brasserie".
Paris Beach again
Paris Plage is back for summer 2017! The golden sand returns to the Georges Pompidou way, the forecourt of the Hôtel de Ville, and the la Villette basin. Sun loungers, umbrellas, and ice cream vendors are on hand. Or try table football, beach volleyball or all kinds of water sports with your family and friends.
Copyright : © EP / Time Out Paris
98 Rue de Cléry, 75002 Paris