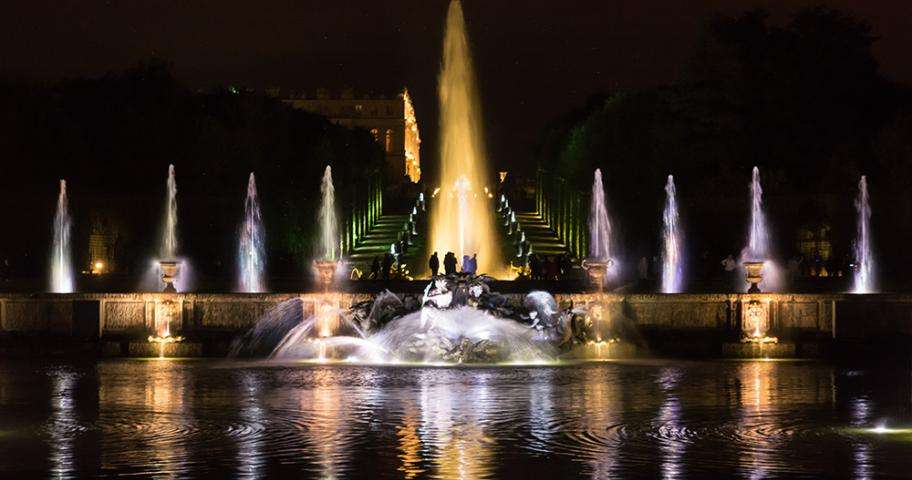 All the magic of Versailles; the Musical Fountains Show and Royal Serenade
Published on 15 May 2019 in Entertainment
Majestic and exquisitely beautiful, the Palace of Versailles continues to be a source of fascination. However, even more magic is in the air on weekends throughout the summer. This is when history comes alive and the atmosphere of the magnificent parties hosted by Louis XIV is evoked once more. About forty minutes by train or RER from your Hotel Les Théâtres, Versailles is ready to enchant you.
The Musical Fountains Show…
Imagine taking, as evening descends, a 2½ hour stroll through the classic French gardens of Versailles, as the royal palace stands proudly in the twilight. From the Green Carpet to the Grand Canal, from intimate groves to imposing Trianons, the play of water, music and light will take your breath away. Fireworks and candlelight reflected in the waters of the pools are an invitation to dance, enjoy an intimate moment or simply become lost in a reverie in which you might see the faint spectres of Lully, Molière, La Fontaine or Madame de Maintenon...
© Nicolas CHAVANCE
…And the Royal Serenade
Before immersing yourself in the magic of the Musical Fountains Show, visit the King's apartments and the Hall of Mirrors. As the sun sets in front of the Palace of Versailles, you can enjoy costumed dances, skits and music in the spirit of the Baroque 17th and 18th centuries. This live entertainment evokes the soul of the place and conjures up the splendour and creativity of Versailles life better than any description could possibly do. Simply magical.
© Agathe POUPENEY
When you book your room at the Hotel Les Théâtres, remember to buy your tickets for the Musical Fountains Show and the Royal Serenade at Versailles. We'll be happy to tell you how to get there.
******
More information:
- Photo Credit Principale: © David LHEUREUX
---
Hotel les Théâtres, a 4-star boutique hotel in the heart of Paris