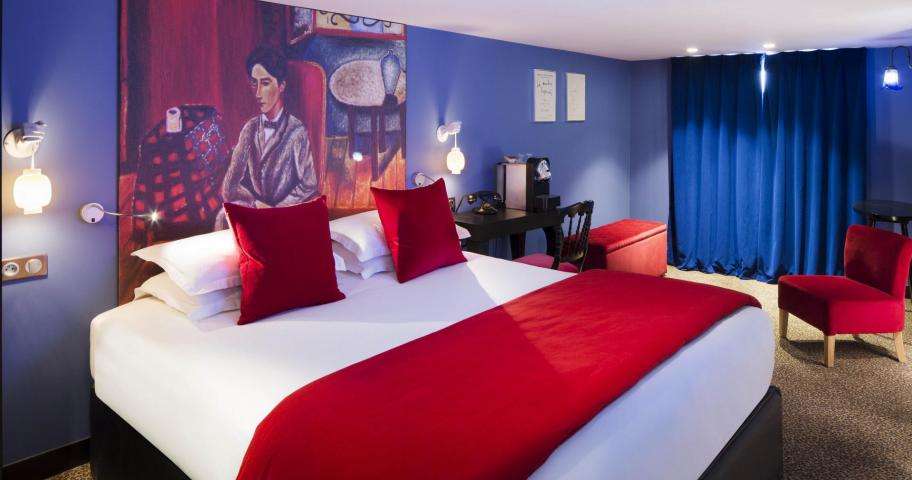 A permanent tribute to Jean Cocteau
Published on 14 November 2015 in Hotel Les Théâtres News
If there is an artist's soul that continues to haunt Paris, it is the one of Jean Cocteau. Exhibitions of his work and regular retrospectives are proof of his continued popularity. Hotel des Theatres just had to create a permanent tribute to the playwright's prolific talents and three types of rooms are subtly decorated in a refined style that is inspired by his work and vision.
A Jack of all trades
The frail figure of Cocteau wove its way through the last century, leaving behind an imperishable footprint. Alongside the greatest artist and designers, from Proust to Picasso, through Nijinsky and Coco Chanel, he was at the forefront of the major art movements of his time. A Jack of all trades, he excelled in the theatre and in the visual and literary arts and was afforded the princely luxury of launching new talents such as Raymond Radiguet and Jean Marais.
A sensual and dreamlike world
But as a man, he witnessed the horrors of the First World War and was also inhabited by demons who, more often than not, took his work to fantastical dimensions. The theater, where he made his debut, as a costume designer to the Russian ballets, lent itself beautifully to the poetic and unbridled expression of his characters. His plays, Orpheus, The Infernal Machine, Beauty and the Beast, and The Two-headed Eagle, to name but a few, wonderfully express the sensual and dreamlike world in which Cocteau always immersed his boldest creations.
A sensitive evocation
A socialite, who claimed the right to frivolity, but whose depth is also revealed in the unforgettable portraits of Modigliani, Jacques-Emile Blanche and Kisling, he repeatedly parodied himself as a creature with unkempt features as a result of an incurable opium addiction. The Hotel des Theatres invites you to explore this sensitive evocation through one of three types of rooms dedicated to a man who considered himself primarily a poet and who vanished on the same day that his greatest friend, Edith Piaf, died. Plus, if you want to extend your journey with Cocteau, why not take the path of the Palais Royal arcades, a walk that is scarcely more than ten minutes from the hotel? There, more surely than anywhere else, the presence of the author of 'Superstars', who remains one of the most fascinating representatives of his era, can be felt.