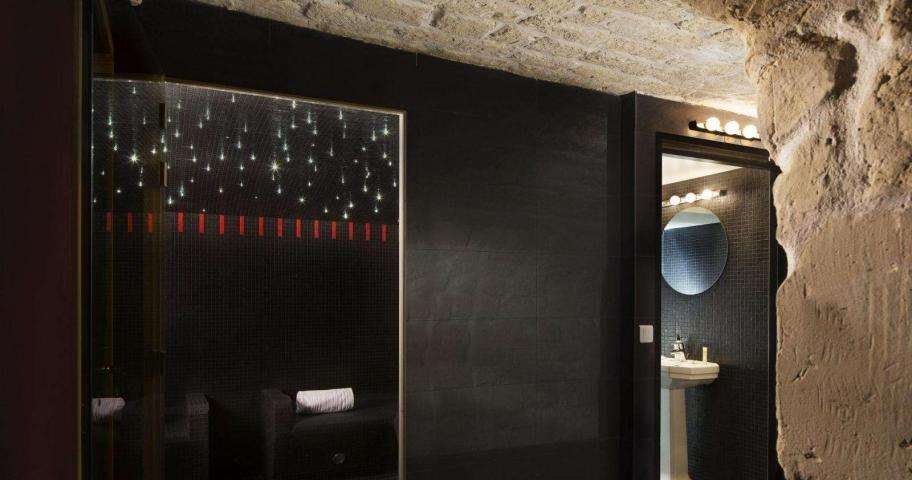 A hammam in your Paris hotel
Published on 5 June 2018 in Hotel Les Théâtres News
Whether you're on holiday or on a business trip, the hectic pace of Paris can be tiring. At the end of a long day of shopping, walks, work or sightseeing, discover the hammam on the ground floor of Hotel Les Theatres. A cocooning space that can be reserved for you.
In the privacy of your Parisian hammam
At Hotel Les Theatres, everything has been designed around the themes of comedy and tragedy. Beautifully decorated rooms are inspired by classic and contemporary authors while red velvet armchairs evoke the atmosphere of great Parisian theatres. The bar is where audience and actors meet and our basement hammam acts as your personal lodge. Protected from the outside world, it's the ideal refuge before you take to the stage for another evening in the spotlight that is Paris. After all, everyone needs to step off the boards and relax from time to time!
Your wellness area
To ensure your complete rest and relaxation, access to the hammam is by appointment. You'll have the place to yourself and you won't have to wait or mingle with others – the Hotel Les Theatres hammam will be yours alone. Available from 10:00 to 22:00, you'll be able to schedule a relaxing evening under its starry sky to prepare for a good night's sleep or an evening out. Upon arrival at the hotel, you can reserve your slots at reception. Our team is at your disposal! Take a break from the daily hustle and book the hotel hammam for a few special moments alone. Available by appointment, you are guaranteed complete privacy away from the busy world.