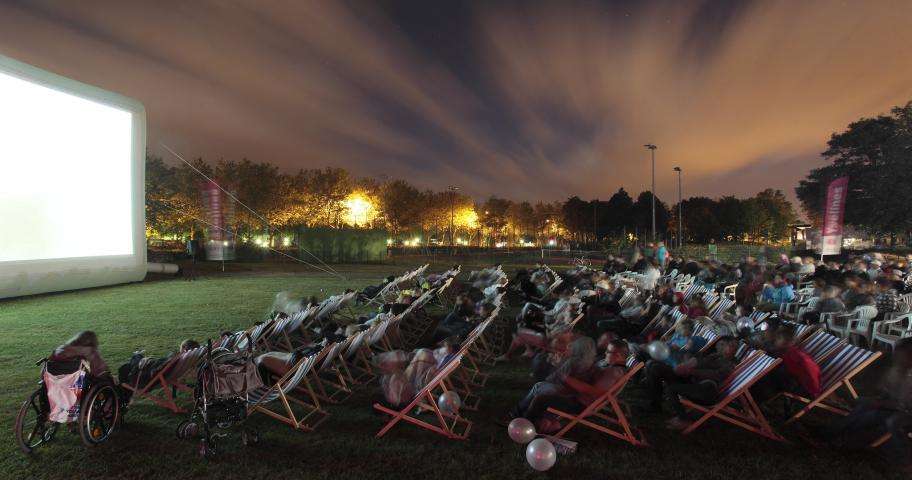 A big screen under the stars; the Open-Air Film Festival
Published on 5 June 2019 in Entertainment
For a month, in the warm heart of summer, the Parc de la Villette becomes Europe's largest outdoor cinema for the Festival de Cinéma en Plein Air (Open-Air Film Festival). Its warm, relaxed and family-friendly ambiance and its carefully chosen programme of both popular and cutting-edge movies delights a hugely enthusiastic audience every year. Your Hotel Les Théâtres team highly recommends this celebration of the joys of the big screen beneath the stars!
Open-Air Film Festival; movies and even more movies
Each year a theme is chosen for the festival. In 2018, 'If we sang?' opened with La La Land and closed on The Umbrellas of Cherbourg, by way of Jules and Jim, River of no Return and The Jungle Book, among many others ... Each year the festival offers an exhilarating mix of pop culture blockbusters, experimental films and much-loved classics. It's certain that the 2019 theme, No Futures!, presenting cinematic visions of the world of tomorrow, from utopias to dystopias, will be particularly inspiring! A highlight will be Denis Villeneuve's stunning Blade Runner 2049.
The magic of the Open-Air Film Festival
This completely free festival takes place on the large lawn of the Parc de la Villette. The films are screened after nightfall on the huge inflatable 544 m² screen. But the audience gathers well in advance of the start to share a picnic or an aperitif, spread their blankets, rent a deckchair and get in the mood. Every Wednesday to Sunday evening from July 17th to August 18th, 2019, a different film will be shown. The official programme will be revealed soon!
Treat yourself to a break in Paris and enjoy a movie beneath the stars at the Open-Air Film Festival in the Parc de la Villette. Your Hotel Les Théâtres team will show you how to get there and the best way to put together the perfect picnic!
******
More information:
- Festival du cinéma en plein air
Photo Credit : © Christophe Taamourte
---
Hotel les Théâtres, a 4-star boutique hotel in the heart of Paris